To further assistant the members of our community who suffer from food insecurity, in addition to our other programs, the food bank offers a mobile pantry once a month. This drive-thru food distribution allows members of our community (whether they are a client or not) to receive additional food every month.
On average this mobile pantry feeds 300 people each event
Mobile Pantries are provided by the United Food Bank and made possible by monthly sponsors.
Our Mobile Pantry Distribution starts at 8 am and takes place behind our building at 702 E. Alsobrook Street, Plant City, FL 33563.
Event is first come, first serve so make sure you are there early!
Mobile Pantry Dates:
September 29th 2021
October 27th 2021
November 24th 2021
December 29th 2021
January 26th 2022
February 23rd 2022
March 23rd 2022
April 27th 2022
May 25th 2022
June 29th 2022
July 27th 2022
August 24th 2022
*All dates are subject to change. For the most up-to-date information please see our Facebook page https://www.facebook.com/UnitedFoodBankPC or call our office at 813-764-0625 ext. 5.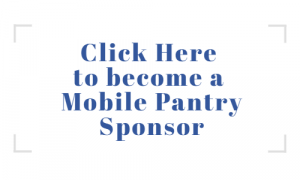 ---
A Big Thank you to the our 2019 Mobile Pantry Distribution Sponsors.
Bill McDaniel
Billy & Marsha Passmore
Beth Tancredo
Cruise Planners Plant City
Dan & Shirley Raulerson
Dodie White
Hope Lutheran Church
Poppell Insurance
Sperry Law
Wendy's
William & Gwen Thomas, Sr.